FOLIGAIN MINOXIDIL 5% HAIR REGROWTH TREATMENT for Men (6 fl oz) 180ml 3 Month Supply
FOLIGAIN MINOXIDIL 5% HAIR REGROWTH TREATMENT for Men (6 fl oz) 180ml 3 Month Supply
? Extra strength hair regrowth treatment for men
? Clinically proven to help regrow hair
? Reactivates hair follicles to stimulate regrowth
? Better Value & Same Quality – Compare to Kirkland Signature Minoxidil 5% and Men?s Rogaine? (Extra Strength Active Ingredient*)
? 3 x 60ml bottles total (approximately 3 month supply)
Description
Additional information
Reviews
Description
FOLIGAIN? 5% MINOXIDIL TOPICAL SOLUTION for Hair Regrowth
There are hair regrowth products and then there?s FOLIGAIN? 5% MINOXIDIL TOPICAL SOLUTION, the latest breakthrough in hair regrowth technology! FOLIGAIN? 5% MINOXIDIL TOPICAL SOLUTION utilizes the highest-purity research-grade materials, which translates into the most effective hair loss and regrowth treatment on the market today.
With a total of three bottles (approximately three month supply), FOLIGAIN? 5% MINOXIDIL TOPICAL SOLUTION is scientifically proven to stop hair loss and promote hair regrowth on the scalp area in men, in just a few months of use.
Men's FOLIGAIN is for men who have a general thinning of hair on the top of the scalp (vertex only, as shown below). Not intended for frontal baldness or a receding hairline. Men's FOLIGAIN has been shown to regrow hair in men with the following degrees of thinning hair or hair loss: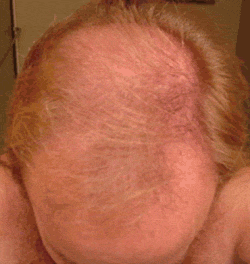 Actual Customer's Results after 5 Months of use
What is Minoxidil?
Minoxidil was first created as a blood pressure medication but patients began to notice they were growing more hair! With a change of direction, doctors started prescribing minoxidil as a hair-loss supplement that promotes a full, healthy head of hair.
Minoxidil hair treatments are available in 2% or 5% propylene glycol topical solutions. The propylene glycol ensures that the applied minoxidil is spread evenly across the scalp area and effectively absorbed through the skin.
How Does?FOLIGAIN? 5% MINOXIDIL TOPICAL SOLUTION Work?
FOLIGAIN? 5% MINOXIDIL TOPICAL SOLUTION stimulates the scalp area?specifically the deadened hair follicles?which exerts maximum hair growth on the crown of the head in men.
Scientific Studies Give Support to Hair Regrowth Effectiveness
Dermatologists conducted an observational study in 984 men with male-pattern hair loss for the duration of one year. The study evaluated the effectiveness of a 5% minoxidil topical solution in stopping hair loss and stimulating new hair growth. For one year, patients applied 1 milliliter (ml) of 5% minoxidil solution twice a day to the scalp area.
At the end of the year, the dermatologists reported that hair loss areas of the scalp had become smaller in 62% of the patients.
Directions:
? Apply one mL with dropper 2 times a day directly onto scalp in the hair loss area.
? Using more product or using it more often will not improve results.
? Continued use is necessary to keep and increase your hair regrowth, or hair loss
will begin again.
Warnings: For external use only. For use by men only.
Flammable: keep away from fire or flame. May be harmful if used when pregnant or breastfeeding. Keep out of reach of children. If swallowed, get medical help or contact a Poison Control Center right away.
Do not use if:
? you are a woman.
? your amount of hair loss is different than that shown on the? side of this carton,
because this product may not work for you.
? you have no family history of hair loss.
? your hair loss is sudden and/or patchy.
? you do not know he reason for your hair loss.
? you are under 18 years of age. Do not use on babies and children.
? your scalp is red, inflamed, infected, irritated, or painful.
? you use other medicines on the scalp.
Ask a doctor before use if you have heart disease.
When using this product:
? do not apply on other parts of the body.
? avoid contact with the eyes. Incase of accidental contact, rinse eyes with large
amounts of cool tap water.
? some people have experienced changes in hair color and/or texture.
? it takes time to regrow hair. Results may occur at 2 months with twice a day usage.
For some men, you may need to use this product for at least 4 months before you see
results.
? the amount of hair regrowth is different for each person. This product will not
work for all men.
Stop use and ask a doctor if:
? chest pain, rapid heartbeat, faintness, or dizziness occurs.
? sudden unexplained weight gain occurs.
? your hands or feet swell.
? scalp irritation or redness occurs.
? unwanted facial hair growth occurs.
? you do not see hair regrowth in 4 months.
Additional information
| | |
| --- | --- |
| Active Ingredients: | Minoxidil 5% w/v |