FOLIGAIN MINOXIDIL 2% ADVANCED HAIR REGROWTH SHAMPOO with 2% Trioxidil? (8oz) 240ml for Men and Women 30 Day Supply
FOLIGAIN MINOXIDIL 2% ADVANCED HAIR REGROWTH SHAMPOO with 2% Trioxidil? (8oz) 240ml for Men and Women 30 Day Supply
Deep Cleansing Hair Loss Solution with Powerful Minoxidil and Trioxidil? Blend + DHT Blockers
? Deep cleansing hair regrowth shampoo with stimulating bioactives
? Only FOLIGAIN? FOR MEN Hair Regrowth Shampoo contains Trioxidil? and
Minoxidil for Maximum Performance
? Trioxidil?s triple action targets the main causes of hair loss
? With high-performance DHT blockers
? Minoxidil is clinically proven to regrow hair and prevent thinning
? Moisture-lock seals in nutrients and restores scalp health
? Clinically studied ingredients
? No parabens, sulfates or phthalates
Description
Additional information
Reviews
Description
FOLIGAIN? Hair Regrowth Shampoo is expertly formulated for men and women suffering from hair loss or thinning hair. Our revolutionary formula is the first to combine clinically proven Minoxidil with Trioxidil, a triple action hair regrowth complex that works fast to deliver fuller, thicker, and healthier-looking hair.
Male Pattern Baldness occurs when enzymes called 5?-reductases convert healthy testosterone to Dihydrotestosterone (DHT). DHT causes hair follicles to shrink and the growth phase to shorten. Blocking DHT from the scalp it the key to ending hair loss. The next thing you need is a product with the proper ingredients to promote circulation to the scalp, increasing hair growth. The final thing to look for is nutrients to feed the healthy and new hair follicles, so hair will be healthy.
Minoxidil and Trioxidil work together to revitalize hair follicles and help prevent hair loss by stimulating the extracellular matrix of the scalp and blocking harmful DHT. Using advanced mechanisms, this shampoo will help build the necessary proteins for healthy hair growth, superior hair anchoring, and scalp health.
These ingredients have gone through rigorous testing and research to ensure the best support for hair growth, scalp health and follicle health.
Only FOLIGAIN contains Trioxidil, a triple action anti-thinning complex developed by a team of hair care experts, with bioactive ingredients clinically shown to help revitalize hair and scalp health.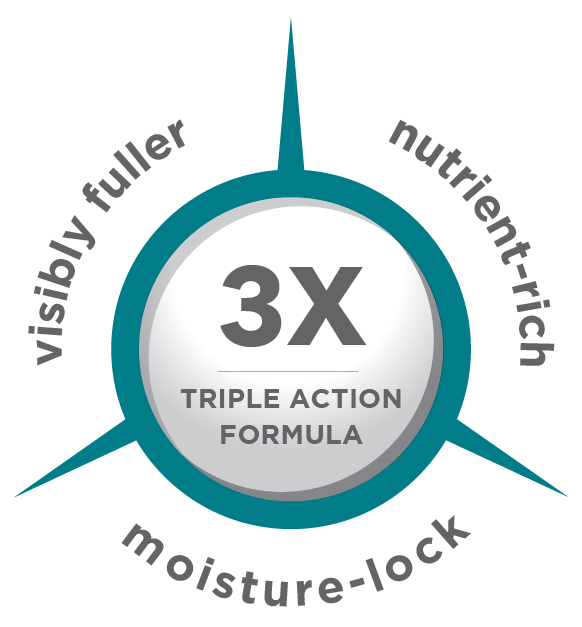 Stronger, Thicker, Fuller Hair
Helps to boost necessary proteins for hair that?s denser and full of body. Proteins are a key element in hair health, providing nutrients to create a shiny, thick head of hair. When each hair follicle is bombarded by the right kind of protein, hair is rejuvenated, creating a more youthful and healthy look.
Targeted Hair Regrowth
Bioactives target the main causes of thinning, helping to fortify follicles from within for younger-looking hair. Thinning subsides quickly and is replaced with regrowth and replenishment!
Helps Improve Scalp Health
A healthy scalp provides the right environment for better hair. Moisture-lock technology seals in nutrients and skin moisture to help reduce irritation and provide a healthy base for new, healthy hairs to grow.
What is Minoxidil?
Minoxidil was first created as a blood pressure medication but patients began to notice they were growing more hair! With a change of direction, doctors started prescribing minoxidil as a hair-loss supplement that promotes a full, healthy head of hair.
Minoxidil hair treatments are available in 5% or 2% propylene glycol topical solutions. The propylene glycol ensures that the applied minoxidil is spread evenly across the scalp area and effectively absorbed through the skin.
How Does Minoxidil Work?
MINOXIDIL stimulates the scalp area?specifically the deadened hair follicles?which exerts maximum hair growth on the crown of the head for men and women. The exact way Minoxidil stimulates hair follicles is not known, but is suggested that the solution improves blood circulation to the scalp area.
Directions:
Massage into wet hair and scalp for 1-2 minutes. For best results allow the product to sit for another 3-4 minutes so that the active ingredients have time to work. Rinse your hair thoroughly. For optimal results apply at least 3-5 times a week and follow with Foligain Stimulating Conditioner.
Warnings: For external use only. Avoid contact with eyes. KEEP OUT OF REACH OF CHILDREN. If irritation, redness or discomfort occurs, discontinue use and consult a licensed healthcare practitioner.
Read and keep carton for full product information.
Additional information
| | |
| --- | --- |
| Active Ingredients: | Ketoconazole 1%, Minoxidil Sulfate 2% w/w, Salicylic Acid 1% |